MISSION
Our desire is to provide a nurturing home environment where our residents receive the highest quality care available. Where our residents will benefit from a variety of services designed to maintain their health, peacefulness and dignity in a supportive social family setting. Our primary focus is to offer comfortable and relaxed environment, but above all respect to the elderly.
---
WHO IS KATHRYN JANE?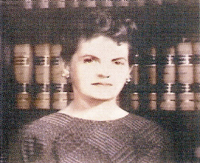 Kathryn Jane McDonald was born in Los Angeles in 1913, a year before the city of Los Angeles opened the first Public Defender office in the world. She earned her LLB degree graduating Cum Laude at Southwestern Law School in 1938. Later that year, she was sworn in as a Member of the California State Bar, joining the Los Angeles Public Defenders Office in October 1942.
Mrs. McDonald was a highly respected trial lawyer, representing such clients as Gregory Powell.
When Kathryn retired on January 5, 1971, she moved to Laguna Beach. Years later she solicited our care and companionship. In loving memory of this wonderful woman we opened our facility. We reflect on her pioneering life and the way others have followed her dedication in following her beliefs and caring for humanity.
---
Our Story
In June of 2003, Kathryn Jane Residential Care was founded in the city of Mission Viejo in homage to the first female public defender in Los Angeles.
During the licensing process of Kathryn Jane Residential Care, I was diagnosed with Endocarcinoma of the left lung.  According to my oncologist Dr. Fung, the cancer was located a millimeter from the pleura, the lining that envelopes the lung. From Dr. Fung's diagnosis he stated that my cancer was close to metastasizing and possibly in a period of three months would have extended to other parts of my body.
Several years have passed since that June and today I can count myself as one of many cancer survivors.
For this reason, I have made peace with the life that has given me the opportunity to transcend my faith. I am thankful that I may offer my services of love and gratitude to the community.
I give thanks first and foremost to my sweet wife Edilma for her dedication in creating this geriatric home, as well as the unconditional support of our children, Camilo and Andrea, and our family and friends.